Store Hours
Tues. - Thur.:
10:00 - 5:00
Fri.-Sat.: 10 - 5
Sun.: 10 - 5
Closed Mondays

PLEASE NOTE: DUE TO RAPID FLUCTUATIONS IN MARKET PRICING, PRICES DISPLAYED MAY BE INCORRECT. WE WILL CONTACT YOU IF A PRICE HAS CHANGED ON AN ITEM YOU HAVE ORDERED. PLEASE FEEL FREE TO CALL THE MUSTART SEED AT 603-679-1800 WITH ANY QUESTIONS.
THANK YOU!
Welcome to the Mustard Seed!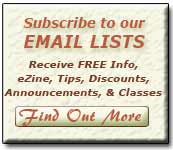 The Mustard Seed Natural Living Center has 32 years of dedication to quality, selection, and customer satisfaction, setting us apart as a valuable resource for eco-conscious living. All our natural and organic products are dedicated to enhancing health and well-being while protecting the natural resources of the planet.
We feature the highest quality Bulk Herbs & Spices, Herbal Teas from Salandrea's Herbal Apothecary & Salandrea's Tea Room, aromatherapy products from Salandrea's Essences, & natural body care products from Salandrea's Spa. We also offer some of the supplements, glassware, and gifts we have in the store.
The Mustard Seed is committed to providing you with only the highest quality bulk herbs and spices. We are continuously moving towards certified organic and consciously wildcrafted herbs. As we find new sources we add them to our product lines. Your health and happiness, and the health of the environment are our highest priorities, so we are always on the lookout for the freshest and best in bulk herbs, including botanical herbs, culinary herbs & spices, and culinary spice blends!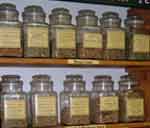 Salandrea has been making beneficial and healthy herbal teas for 32 years. She has perfected the art of formulating to create a combination of fine-tasting and nutritious teas using only the highest quality herbs. You will find them under "Salandrea's Tea Room". We also carry many commercial green teas, black teas, and other varieties of bulk tea, as well as south american Yerba Mate' and exotic Herbal Chai Blends.

Salandrea's own line of products offers a large selection of aromatherapy products including bulk essential oils and quality fragrances, diffuser oil blends, natural perfume oil blends, enviro-mists, potpourri, and accessories. For those who like to make their own natural personal body care products, we provide carrier oils, cosmetic waxes, and other cosmetic ingredients.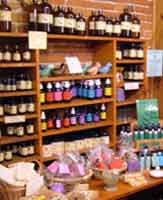 Go ahead and pamper yourself! Salandrea has created an amazing line of products for use from head-to-toe, from personal therapy to the purely sensual. Now you can experience the "spa" treatment right at home. Salandrea's Spa includes Body & Massage oils, Body Care Oils, Salves & Balms, Lip Balms, Bath Salts and Herbal Bath Blends, Luxury Spa Tea Bath Blends, Therapeutic Pillows & Poultices, Salandrea's Footzy Fetish foot care products, Mother's Care products, and accessories.
The Mustard Seed Natural Living Center
80 Stage Road, Nottingham, New Hampshire, USA
(603)679-1800
Copyright Protected 2004-2007 The Mustard Seed Natural Living Center, Inc.