Tea Accessories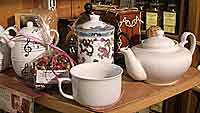 Now that you have some of our great teas from Salandrea's Tea Room or our Bulk Tea page, you may need a tea pot, or tea ball, and other helpful items so you can really enjoy your tea break!
Tea Strainers
$2.50

$1.95

Tea Brewing Basket

$9.95

Muslin Bags
Small - 3" x 5"
Medium- 4" x 6"
Large - 5" x 7"

Min. of 6
for each size

(Choose sizes at Checkout)

Small - $.50 ea.

Medium- $.65 ea.

Large - $.85 ea.

Tea Filters
(100 Count)

$4.50

Cheese Cloth

$3.50
Teapots
Porcelain Tea Pot and Cup
(Tea For One)

$10.50
The Mustard Seed Natural Living Center
80 Stage Road, Nottingham, New Hampshire, USA
(603)679-1800
Copyright Protected 2004-2007 The Mustard Seed Natural Living Center, Inc.