In 1983, The Mustard Seed had it's humble beginnings in the tack room of my barn. The dream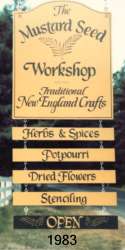 was finally coming to fruition. I had the assistance of my two small children, my dog Alex, and my two cats. The mustard-colored sign was hung, my old wooden register was in place, my manual scale was at my side, the webs cleared, jars and herbs lined the wooden shelves, and bunches of herbs were drying in the back of the barn--open for business!
My experience in 1969, working with Ann Wigmore, the founder of the Hippocrates Health Institute in Cambridge, Massachusetts, was the catalyst for me to direct my life's work towards natural healing. My love of nature and concern for the environment fueled the passion for what my sense of healing is about. My approach to healing acknowledges the relationship between the inner ecology of the body and the outer ecology of the planet. I wanted to create a special place where people could come to tap into this wisdom through herbs, natural medicines, aromatherapy, nutrition, eco-conscious products, along with education, and networking.
Within two years of opening in Nottingham, I felt that I wanted to share my perspective and products with more people. This would mean relocating my business from the country into a more populated area. I found a small space in the charming Market Square district of Portsmouth, New Hampshire. By 1986, as the popularity of my store grew, I needed a much larger space. The Mustard Seed found it's third home in the same area of Portsmouth where it has been for the past 18 years.
This year, I have changed the name to The Mustard Seed Natural Living Center to reflect the inclusion of environmentally-friendly personal and home decor items, as well as organic gourmet condiments and snacks. I am addressing the "whole approach" to staying healthy by offering healing tools, and eco-friendly products for people that also benefit the planet.
The Mustard Seed Catalogue and our Website, MustardSeedHerbs.com, is the next step in the evolution of The Mustard Seed which will enable me to bring my unique mix of products and services to a larger audience.
Blessings,
Salandrea
---

To find out more about Salandrea and her approach to natural healing
The Mustard Seed Natural Living Center
80 Stage Road, Nottingham, New Hampshire, USA
(603)679-1800
Copyright Protected 2004-2007 The Mustard Seed Natural Living Center, Inc.