Ask Salandrea
questions on health related issues, products, herbs, health supplements, spiritual questions, and anything that relates to your health.


My connection with nature has been very strong since the time I could venture off into the woods and fields by myself to pick the wild blueberries and collect beautiful bouquets of delicate wild flowers.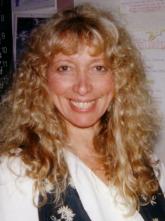 I remember lazy summer days hiding out in the tall grass pretending it was my home. I decorated my grassy home with the treasures I discovered. I adorned it with beautiful rocks, laden with mica, that glistened and sparkled in the sun. I had everything, including music sung by the many birds, accompanied by the sound of the breeze dancing through the trees and tall glass. The peace and contentment I felt was so comforting that I really had a hard time leaving my natural home for the wood and shingle version. I never took for granted the beautiful gifts that were given to me then, nor do I now. I was, and continue to be in awe of the beauty and synchronicity of nature. It inspired me to look deeper into the "wisdom of nature" and find a way to develop a working relationship that would benefit us both.
I define my approach to my healing practice in a simple phrase. I refer to it as "wholistic ecology". It acknowledges the innate relationship between the inner ecology of the body and the outer ecology of the planet, where the applications of therapy embrace and support both. The tools I choose to use are herbalism, nutrition, homeopathy, aromatherapy, iridology, vibrational therapies, and environmental awareness. My approach embraces the whole human being, mind, body, spirit, and environment. I not only create protocols for my clients, but also formulate and create unique formulas and products for them. In addition to my healing practice I have developed a line of bulk teas, tonics, natural body care, and eco-conscious products that I offer in my store, as well as through mail order. I love to formulate and create new products, so I also have developed a line of products that I offer to other businesses.
I still love wildcrafting in the woods and fields. This is my "natural home" which gives me the peace and serenity I had as a child. It continues to nourish me and keeps me young at heart...this is the best medicine for me. I am very thankful for all the wonderful teachers I have had in the last 35 years. They have brought me a wealth of information that forms the basis of my practice and business. The many years of experience I have accumulated enables me to pass on what I have learned through writing and teaching. I am a student for life, so I continue to learn and network with others which lets me continue bringing the best to my clients, customers, and students. I hope that I can be of service to you through my products and guidance. Integrity and quality are what I strive for in all my work.
"To have a sense of well being is to be aware and conscious of the choices we make, and to be responsible for the results of those choices. Responsibility is not blame, it is freedom, and the power to create change…"
Salandrea
The Mustard Seed Natural Living Center
80 Stage Road, Nottingham, New Hampshire, USA
(603)679-1800
Copyright Protected 2004-2007 The Mustard Seed Natural Living Center, Inc.