Enviro-Mists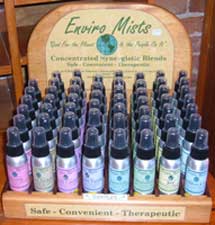 The finest ingredients are used to make these healing and therapeutic spray blends from Salandrea's Essences. Our Enviro-Mists contain synergistic therapeutic blends of pure essential oils, in a distilled water base with herbal extracts, and hydrosols, formulated to have a positive effect on emotional and physical well-being.
Use these wonderfully refreshing mists as a room spray, body mist, in the kitchen, bathroom, car, therapeutically, or when you need to change the energy anywhere you want! We all use them in our homes and vehicles. They are safe, convenient, and therapeutic.
2 oz. Aluminum Bullet Bottle with Sprayer $7.95
To Order:
1. Decide which aromatic Enviro-Mist you want from the list below.
2. Click on the link "Add Enviro-Mist to Cart" below where you can choose the exact one you want!
3. If you want more than one, just come back here and click again.
| | |
| --- | --- |
| Changing Moments | Very relaxing and soothing--contaiing ingredients traditionally used for discomforts associated with hormonal imbalances. |
| Desire | Very sensual--a lovely mist for the bedroom. Includes Organic Vanilla Extract & Spices. |
| Eco-Clean | An effective blend for deodorizing & disinfecting area. Great for bathrooms, kitchens, dorms, and hotel rooms. Includes Lemon, Eucalyptus, Pine, Peppermint, Tea Tree, Niaouli, Thyme, Oregano. |
| Joy | Uplifting & restorative to the spirit. Includes Lemon, Grapefruit, and Cypress. |
| Lavender Fields | Very aromatic blend. Includes Lavender, Ylang Ylang, Citrus, essential oils & hydrosols. |
| Meditation & Yoga | A perfect blend for meditation & yoga practice. Includes oils of Frankincense, Sandalwood, Rose, Tangerine, & hydrosols. |
| Secret Garden | Beautiful fragrance.Includes Rose, Rose Geranium, Palma Rosa, Citrus, Patchouli, essential oils & hydrosols. |
| Serenity | Calming & relaxing. Includes Lavender, Chamomile, Melissa, Rose oils, floral hydrosols & more. |
| Woodlands | Refreshing & exhilarating. Includes Spruce, Black Spruce, Fir Needle, Pine Needle, Cypress, Wintergreen, and Patchouli. |
The Mustard Seed Natural Living Center
80 Stage Road, Nottingham, New Hampshire, USA
(603)679-1800
Copyright Protected 2004-2007 The Mustard Seed Natural Living Center, Inc.