Infused Herbal Oils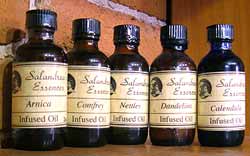 Infused herbal oils have been used for many therapeutic purposes for centuries. Infused herbal oils produced by Salandrea's Essences are made with fresh high-quality herbs and flowers picked by hand, or by using organic dried herbs. We also use mixed tocopherols (Vitamin E) and Rosemary Oleoresin. The oils are solar-infused in certified organic extra-virgin olive oil. They are carefully crafted with love and blessings by our dedicated staff.
These infused herbal oils are wonderfully fragrant and healing. Not only can you find them here online, but if you come to the store in Nottingham, New Hampshire, you can find them in the Salandrea's Spa section.
| | | |
| --- | --- | --- |
| Arnica | Evening Primrose | Plantain |
| Burdock | Echinacea | Red Clover |
| Calendula | Lady's Mantle | Rue |
| Chamomile | Lemon Balm | Self Heal |
| Comfrey | Mullein Flower | St. John's Wort |
| Dandelion Flower | Nettles | Yarrow |
The Mustard Seed Natural Living Center
80 Stage Road, Nottingham, New Hampshire, USA
(603)679-1800
Copyright Protected 2004-2007 The Mustard Seed Natural Living Center, Inc.