Luxury Body & Massage Oil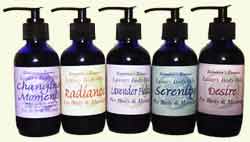 Aromatic and therapeutic body and massage oils enhance the massage experience. Now you can gain the soothing and healing benefits of massage right in your own home! Salandrea's Essences has created a line of luxury body and massage oils that use only the highest quality ingredients. All our wonderful body & massage oils consist of a base of Sweet Almond, Apricot, Jojoba, Grapeseed, Kukui Nut, and Mixed Tocopherols. This creates a massage oil easy to work with, better absorbed by the skin, as well as healing. We use the finest essential oils and quality fragrances. Great for the bath!
You can also find these great body and massage oils in the Salandrea's Spa section of The Mustard Seed Natural Living Center located at the store in Nottinghami Portsmouth New Hampshire.
Beautiful 4 oz. Cobalt Blue Glass Bottle with Pump $10.95
Directions: Decide which body and massage oil you want from the list below, then click on the link "Add Body Oil to Cart" where you can choose the exact one you want! If you want more than one, just come back here and click again.
Luxury Body and Massage Oils
Angel Love
Lovely rose-rosewood-citrus scent with relaxing, soothing properties.
Changing Moments
A relaxing, soothing blend containing oils traditionally used for anxiety, tension, and other discomforts associated with hormonal imbalances
.
Dancing Fire
Highly aromatic & stimulating. Effective analgesic blend for achy, tired muscles and body.
Desire
A favorite! Delicious vanilla-spice scent––the oils used in this blend are known to have aphrodisiac properties.
Joy
Luscious citrus blend, fresh smelling, energizing & uplifting to the spirit.
Lavender Fields
True Lavender fragrance--relaxing, with a hint of Ylang Ylang & citrus.
Mother's Massage
Perfect for the Mother-to-be––also wonderful for skin & stretch marks––lovely, relaxing, calming, light floral-citrus scent.
Radiance
Strong Menthol-Lemon-Eucalyptus therapeutic blend, for sluggish body, aches & pains.
Serenity
Lovely blend––relaxing, calming, soothing––great for the skin––light & sweet, with hints of Chamomile & Lavender.
The Mustard Seed Natural Living Center
80 Stage Road, Nottingham, New Hampshire, USA
(603)679-1800
Copyright Protected 2004-2007 The Mustard Seed Natural Living Center, Inc.