Himalyan Rock Salt Tea Light Holder
Crystal Rock Salt
The crystal salt in our Himalayan Salt Lamps come from the foothills of the Himalayan Mountains. These 200 million year old salt layers are high in minerals and trace elements, providing the highest quality of natural salt.
Negative Ion Generator
When the rock salt heats up from the bulb, negative ions are released. These ions clean the air, removing dust, pollen, animal dander, and smoke. They also offset the radiation from computer monitors, tv sets and other electrical devices.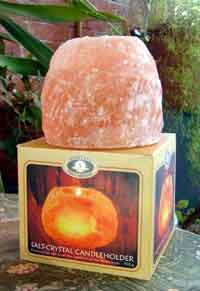 Rock Salt Tea Light Holder $12.50
Weight 1 1/2 lbs.
Height: 3 1/2 "
Diameter: 4"
Includes a Palm Wax tea light candle
.
The Mustard Seed Natural Living Center
80 Stage Road, Nottingham, New Hampshire, USA
(603)679-1800
Copyright Protected 2004-2007 The Mustard Seed Natural Living Center, Inc.