The 4-Herb Formula (Essiac)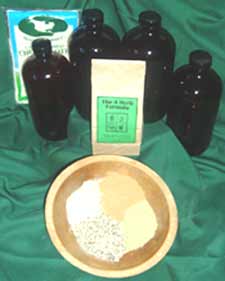 What is The 4 Herb Formula (Essiac)?
It is a unique herbal formula originated and distributed by Rene Caisse, a registered nurse from Bracebridge, Canada. She used this formula in her clinic beginning in 1935 and treated thousands of patients afflicted with cancer and other debilitative diseases.

Is this the original formula?
I, as well as many other experienced herbalists, choose to use the original formula. The herbs in the original formula are Sheep Sorrel, Burdock, Slippery Elm, and Turkey Rhubarb. "Essiac" is a trade name, so I have chosen to call the blend I distribute "The 4 Herb Formula".
How is the formula being used today?
1. The FDA would never allow me to claim that this formula could "treat" or "cure" any disease. Then again, I would never claim that it can. Since I approach health and well being by supporting a healthy inner ecology, there is no need to make this claim. However, I can tell you what the herbs in this formula have been traditionally used for, and what my clients and customers have told me about this formula.
2. The herbs in this formula have been traditionally used for cancer, blood disorders, kidney and liver weakness, yeast issues, auto-immune disorders, cleansing and nourishing, intestinal issues, toxicity, skin disorders and prevention.
What is the formula controversy about?
There is also a 7 Herb Formula that is being distributed and commercialized throughout the world. I would like to dispel the false and misleading information regarding different formulas right now. The 7 Herb, 4 Herb, 4 Herb with Cat's Claw, and even 8 Herb blends are all great formulas.
What are the guidelines to follow when purchasing any of the "Essiac" formulas?
1. Buy it from a reliable source, be it commercial, or from an experienced Herbalist.
2. Make sure the herbs used in the formula are Certified Organic and/or wildcrafted organically.
3. Inquire as to the freshness of the herbal combination.
4. Buy from a source that can offer support and guidance in the use of the herbal blend.
Why should you buy the 4 Herb Formula from The Mustard Seed?
1. Salandrea is the owner and Master Herbalist with 30 years of experience in the natural health field.
2. She uses not only the leaf of Sheep Sorrel, but the seed and root as well, which she wildcrafts herself.
3. Only organic herbs are used in this formula.
4. She blends these herbs in small batches to guarantee freshness.
5. Simple, clear instructions are included.
6. The 4 Herb Formula is not overpriced like so many others on the market.
7. There is continual support regarding the preparation and it's use.
8. It is easy to order with several purchasing options
4 Herb Formula Only (3-month supply) $25.00

4 Herb Formula Only (6-month supply) $45.00
4 Herb Products
The Mustard Seed Natural Living Center
80 Stage Road, Nottingham, New Hampshire, USA
(603)679-1800
Copyright Protected 2004-2007 The Mustard Seed Natural Living Center, Inc.